Supply Chain Consulting
A company's performance is often restricted by fragmented decision making. To deal with increasing complexity, decision making has been split into functions such as Finance, Sales, Procurement, Manufacturing and Distribution. In many cases these functions act as separate silos, making decisions based on their own objectives, incentives and locally available data. Secondly with the advent of e-commerce, establishing an operating model with regards to procurement and fulfilment has become key.
The Problem
Silo behaviour has lead to Demand/Supply mismatches resulting in loss of revenue and an increase in Operating Expenses and Working Capital. Demand signal accuracy is compromised by not understanding "true" customer demand, and the Supply response doesn't take all the relevant material and capacity constraints into consideration. Furthermore, organisations do not always understand what the impact of decisions will be on Profitability and Budgets.
To address the above mentioned issues, companies need a structured approach and process to drive a single set of forward-looking numbers . Each element of this number set must be translated into terms that key shareholders can understand and be made accountable for. Integrated Business Planning (IBP) is the mechanism that integrates strategic and tactical planning process across all functional silos.
Getting Started…
A phased approach (based on maturity) – IBP is not a quick fix or fast implementation; based on maturity levels and organizational readiness, we start by defining the key planning objectives and underlying process.
Always focus on the value – At each stage of implementation, our focus is always on the potential value that can be extracted. We also consider your strategic objectives and risk.
Begin with the end in mind – By understanding what you want to achieve we reverse engineer the process to link information, process and reporting to key organisational objectives.
Providing effective leadership – IBP crosses organisational boundaries – that is its strength but also its vulnerability. Executive leadership is required to set clear ground rules and boundaries for working together. Only through cross-functional co-operation will your IBP journey lead to success.
Our Promise
Our Concurrent IBP Framework aims to bring all the planning components together, with supply chain updates being managed concurrently instead of sequentially. It focusses on creating an enabling and supporting environment and organisation through a pragmatic and phased design approach so that:
Your supply chain information is freed from silos and becomes available across the enterprise.
Your strategy can now effectively drive the business because plans are syncronised across the enterprise and over time.
Finance and operations and aligned, creating a singular vision and one source of the truth.
Concurrent planning that allows instant updates and agile decisions across all functions.
The new breed of IBP technology platforms creates unprecedented data and automated analysis providing real-time and meaningful insights.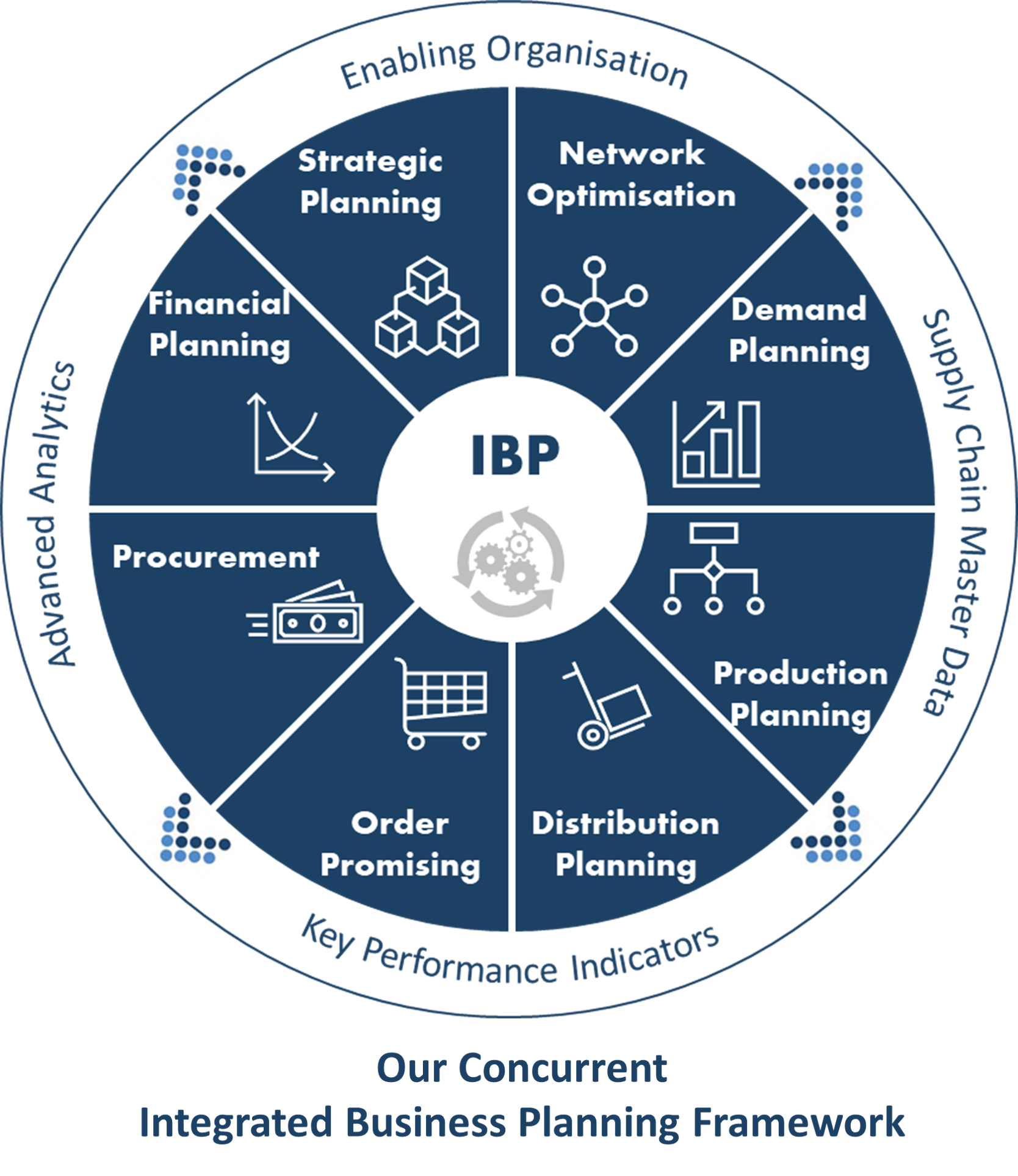 What Business Value will IBP Deliver
Experience has shown that a real financial benefit has been achieved by many companies who have embarked on the journey towards IBP.
In addition, the following benefits are delivered:
An integrated planning platform across marketing, operations and finance
A holistic understanding of performance drivers
Quantifying the financial impact of planning decisions
Increased business flexibility and responsiveness
Case Study 1: Support an IBP solution implementation at a leading Alco Bev Client

MetaPerformance was appointed by Distell as a 3rd party services provider to assist with the implementation of a new supply chain master planning system, Blue Yonder, and to aid in the roll-out of the S&OP and IBP process. This appointment was made in 2021 and is still on-going. The services required and being delivered from MetaPerformace are summarised below:
1) Detailed process mapping of each of the Blue Yonder implementation models: Demand Planning, Supply Planning, Inventory Optimisation, S&OP and Returnable planning.
2) A thorough understanding of the Distell supply chain to write and complete all Day in the Life (DILO) documentation for all new modules being implemented. 3) A detailed analysis of Distell's S&OP process with recommendations on how to improve, together with producing a S&OP calendar, considering the Corporate Reporting Calendar. 4) Assistance in training Distell users to use the Blue Yonder system. 5) Assistance in managing the Change Management stream with frequent check-ins with project stakeholders and system end-users.
"The quality of work has exceeded our expectations with detailed knowledge of the S&OP process and exceptional skills in delivering training, DILO and process documents. Metaperformance has a strong drive to deliver deadlines and to manage customer expectations through clear and frequent communication. We would highly recommend using their services for any of the above requirements."


Case Study 2: A new Operating Model incorporating front-end e-commerce with back-end fulfilment
Our client is a luxury fashion retailer in the South African market that has 160 years of retail legacy. The business required a turnaround strategy and decided to relaunch in the South African market via an e-commerce platform. The initial category focused on the beauty market, with a specific focus on skincare, colour cosmetics, fragrance and beauty accessories. During the implementation of the supply chain function for the e-commerce business, our client faced several challenges.
These challenges included, but was not limited to:
Establishing product supplier agreements
Identifying and establishing agreements with logistics service providers
Establishing the operating model with regards to procurement and
In particular:
Suppliers were reluctant to enter into drop-shipment arrangements (required min order quantities)
Consolidation of orders proved to be challenging
Investigating a hybrid model of replenishment on smaller quantities
Investigating a hub environment to consolidate and ship from. Where do we place hubs? Will I keep stock here or merely use it as a throughput site? Can we hire a hub on an on-demand basis (as-and-when needed). We need assistance in selecting a 3PL
MetaPerformance was asked to put a proposal forward for the design and implementation of the supply chain operating model, which would include:
Processes,
Technology,
Organisation,
Governance policies and structures and performance metrics,
Infrastructure,
Setting up agreements with supply chain business partners including product suppliers and inbound and outbound fulfilment service providers.
Project Objectives:
To launch the Company ABC online store.
Leading up to the launch, implement a supply chain operating model that would cater specifically for the needs of Company ABC (e.g. last-mile delivery).